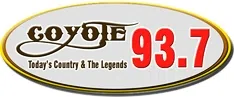 COYOTE 93.7 is your home for Mainstream Country Music, the largest and most popular 24-hour music network in America. We play the biggest country hits from the 1990s & 2000s – plus today's hottest songs. Mainstream Country hits the money demo with top-shelf personalities, weekend specials, lots of daily features, topical information and one-of-a-kind promotions.
The Packers Play on Coyote 93.7.  Tune in for Wayne and Larry for the play by play during the 2018 season. Coyote has your complete game day coverage.  Thanks to our Packer Broadcast Sponsors.
Listen to the Outdoor Minute Weekdays at 6:44 AM and 5:25 PM with Marv Holewinski. Marv is a meteorologist and avid outdoors-man who provides listeners with his passion and 30 years of in the field research, on how the weather affects wildlife and fish feeding behavior. Marv will also share fishing tips, water temp info for local & the Great Lakes, ice thicknesses and snow depths statewide, plus a myriad of useful info.
WCYE On Air Personalities